The Conversation with Amanda de Cadenet: The Hillary Clinton Interview
- 01/07/2016 -
PRESIDENTIAL CANDIDATE HILLARY CLINTON
SITS DOWN FOR EXCLUSIVE INTERVIEW IN A SPECIAL EDITION OF
THE CONVERSATION WITH AMANDA de CADENET
AIRING JANUARY 13
YouTube Stars Glozell Green, Chriselle Lim and Maya Washington also Join for
Discussion of Issues Most Important to Them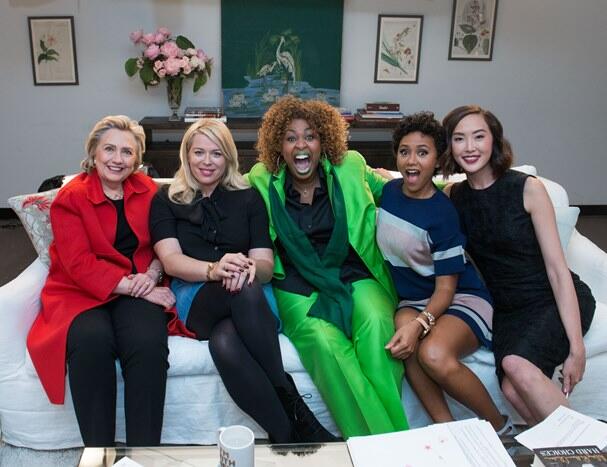 LOS ANGELES, CA (January 6, 2016) – Lifetime presents an exclusive, inspirational one-hour edition of The Conversation with Amanda de Cadenet featuring Democratic presidential candidate, Hillary Clinton, as announced today by Liz Gateley, EVP and Head of Programming for Lifetime. The special unveils a discussion between de Cadenet and Clinton about her childhood, life as a grandmother and her passions driving her decision to run for President of the United States. Social media's top influencers, GloZell Green, Chriselle Lim and "Shameless" Maya, also join and ask the questions many women are thinking about as they prepare to enter the ballot box. The Conversation with Amanda de Cadenet premieres Wednesday, January 13 at 10pm ET/PT on Lifetime.
In an open conversation, de Cadenet speaks candidly with Clinton about the difficult choices she has had to make throughout life and how they have helped shape her views and her dedication to the issues facing women and girls around the world. Clinton opens up about her #SquadGoals and date night with Bill, while also revealing the best advice she ever received, how she defines success and what scares her the most.
For the second part of the special, de Cadenet invites social media influencers – comedian and YouTube personality GloZell Green (@GloZell), fashion expert and stylist Chriselle Lim (@Chriselletweets) and creator of the "Be Shameless" movement, Maya Washington (@mayasworld) – to sit with Clinton and discuss a variety of timely topics including paid family leave, the mom versus work battle and how to tackle fear.
The Conversation with Amanda de Cadenet is produced by The Conversation Group. Amanda de Cadenet and Jason Weinberg are executive producers along with Liz Gateley, Eli Lehrer, Mary Donahue and David Hillman of Lifetime. Drew Denny serves as producer and Leah Culton Gonzalez is co-executive producer.
ABOUT LIFETIME
Lifetime is a premier female-focused entertainment destination dedicated to offering the highest quality original programming spanning scripted series, non-fiction series and movies. Lifetime Television®, LMN®, Lifetime Real Women® and Lifetime Digital™ are part of Lifetime Entertainment Services, LLC, a subsidiary of A+E Networks. A+E Networks is a joint venture of the Disney-ABC Television Group and Hearst Corporation.
ABOUT THE CONVERSATION GROUP
Amanda de Cadenet is the Founder of The Conversation Group, a multi-platform media company and community that produces Amanda's in-depth interviews with some seriously amazing women saying some seriously amazing things. Whether its interviews with celebrities such as Lady Gaga, Sarah Silverman, Zoe Saldana, Chelsea Handler, Gwyneth Paltrow or the devoted followers on her social channels, Amanda consistently delivers an honest and authentic voice through The Conversation.
Related Content